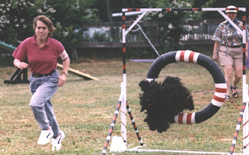 OTHER PULI RESOURCES
The only useful Puli books are out of print or in Hungarian (or English translation of Hungarian). The one book available to the general public in bookstores and pet stores is not recommended, and I have never found a reasonably accurate reference to the breed in any of the books discussing breeds of dogs in general. So, look in your used bookstores for the following:
---
This is the Puli by Leslie Benis. Published in 1976, by TFH Publications, Inc., 211 West Sylvania Avenue, PO.Box 27, Neptune City, NJ 07753. This book is written by one of the breed's most respected breeders, Les Benis of the Hunnia Puli Kennel. Les emigrated from Hungary following the 1956 Revolution, and working with Sara Nagy, his mother Eva Benis, and the Dean of the Hungarian Puli Breeders, Dr. Imre Bordacs, imported many excellent Hungarian dogs in the late 1960's and 1970's. This book shows the early Hungarian imports and good examples of corded coats.
---
The Complete Puli. By Sylvia Owens. Published in 1976 by Howell Book House, Inc. 730 Fifth Avenue, New York N.Y. 10019. Also for historical interest, written from the American standpoint (versus Les Benis' Hungarian point of view), and containing pictures and pedigrees of the early American lines, especially Mrs. Owens' own Skysyl Kennel. Out of print.
---
How to Raise and Train a Puli by Ellanor H. Anderson, published in 1964 by T.F.H. Publications, a small paperback petstore book, featuring the dogs of the other Grande Dame of early American Puli breeding, also out of print and of historical interest.
---
Check out your used bookseller, also for old National Geographics, 1937 USDA Yearbook, etc. Articles on Herding and Working dogs may have representations of Pulik
---
Currently available titles include:


The new Hungarian language Puli-Pumi-Mudi book, released in time for the World Show which was held in Budapest in l996, contains photos of currently important Hungarian dogs, and includes a photo of Budapest Champion, Europa Champion, CACIB, Multiple Best in Specialty Show, American Champion Szeder's Show Girl. Lavie is pictured with Dr. Bordacs Imre, the dean of the Hungarian Puli Breeders, after her win at the Europa Show in Budapest in 1993. The Hungarian Booksellers, Puski-Corvin in New York City should be able to order this book for you. The title is: KUTYATAR - PULI, PUMI, MUDI and is authored by Meszaros, Langer, and Szabo. Publishers: ELEK ES TARSA KONYVKIADO.
---
The AKC Complete Dog Book. Order from The American Kennel Club, 51 Madison Avenue, New York, N.Y. 10010
---
Hungarian Dog Breeds by Pal Sarkany and Imre Ocsag . First printed in Hungary in 1977 under the title Dogs of Hungary in 1977. The first edition pictured a Fako Puli on the cover. Later editions show a black Puli. Printed by Egyetemi Printing House, Budapest, Hungary. Available in English. A must for every breed enthusiast.
---
Just Enough Hungarian. D.L. Ellis, A. Cheyne. Published by Passport Books, a division of NTC Publishing Group, 4255 West Touhy Ave., Lincolnwood (Chicago), IL 60646-1975. You will need this one; a good place to start for communicating with your Puli on those awkward occasions when he "doesn't hear" you. You see, often Pulik can hear and understand English when they are being asked to do something they want to do; however, frequently they must receive requests to do something they don't care to do in Hungarian if there is any hope of them heeding your words. Being prepared with the correct phrase can save you embarassment in front of obedience groupies.
---
Publications of the Puli Club of America: The "Gold Book" of the first 200 Puli Champions, for real historical interest in the development of the American Puli lines, and the yearly 'Book of Champions".