ARNOLD
Ch.Szeder's Terminator of Tordor, HT

---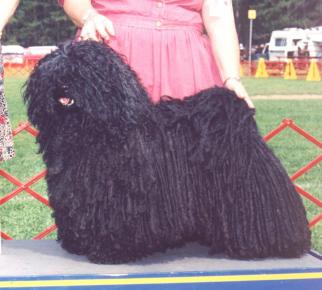 Arnie has been my main advisor and comforter for the past ten years. He keeps the rumble of the other Pulik in the house down to a dull roar, and helps me retain my sanity. Most recently, he has helped me through my crippled period - Lyme Disease for 5 years and 3 knee surgeries in 13 months thereafter. While he didn't have a very long show career, he went out the summer we were able to show and won several Group Firsts in very limited showing. Arnold himself is a Lyme Disease surviver, and it is a wonder that we were both able to have a time when we could enter the show ring. He also won an Award of Merit at the Puli Club of America National Specialty.
Arnie is from the last litter produced by Ciggy, out of a Blister daughter. These combinations were always very successful, both in type and temperament. Arnie is no exception, and his Ciggy-like presence in my life has brought me great comfort. Not the least of Arnie's gifts to me is his son, out of Lavender, Szederi Cigany Csibesz, 'Hairy'. Hairy and his equally lovely sister Pici (Szederi Cigany Csitri) are from Lavie's last litter. Hairy has the look of Ciggy and the sweetest of temperaments. He is clever enough to make the necessary adjustments to live successfuly in the same house with his father. These adjustments include playing tug-of-war on his back, and letting his father drag him all over the house by the toy. As Arnie is a certified genius (says so on his pedigree) it is no wonder that Hairy is able to figure things out as well.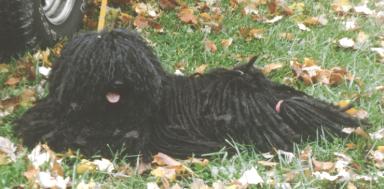 We like to say that Arnie has the best head in the breed, both inside and outside. Arnie was a stud-fee puppy. When he arrived, the most striking thing about him, other than his outrageous personality, was his mouth. Now, I realize that's a statement subject to many interpretations, but consider this. In a breed where we want a short muzzle (one third the length of the head in total), full dentition, and large teeth, the broader the dental arcade, the better. Just so, we absolutely do not wish to have a narrow, longer, snipey muzzle. Arnie has an absolutely straight line in the lower arcade where the incisors lie, producing a maximally wide arcade. This sets the stage for his whole head structure. Broad skull, large backskull and nice stop combine for a beautiful head in a breed where breeders often don't pay more than lip service to head type, since Puli hair can cover a multitude of sins. And the brain inside that large backskull is as lovely as the exterior. He is overbearing (much prefers cattle to sheep), totally responsible (checks all the girls eyes and ears and never lets anyone take up a position of authority other than himself), and outgoing to the extent that I feel jealous. Supreme confidence with the brains and body to back it up characterize the best Pulik. Arnie is definitely among them.