BOGI
Ch. Verecke-uti Boglarka
Hungarian Import
---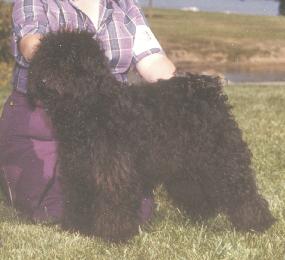 Bogi going Best In Sweeps at the PNC Specialty
Bogi came with us from Hungary in 1981 on the same trip we found Ciggy. Dr. Bordacs had directed us to her. She was from the first litter sired by Int/Hung/BKHCH Martonvolgyi Dugo Bogancs, 'Old Bogancs'. Bogancs was the top dog in Hungary at the time, bred by Reigerne and sired by Toth Emilne's Int/Hung/BKHCH Perecesi Kormos Patko. Ciggy's Dam, CACIB Csanyteleki Bogi, was sired by the other great Patko son, Int/Hung/BKHCH/Villagyoztes Somkovari Morcos Bojtar. Through these great Patko sons and our own Patko daughter - Perecesi Kocos - we had our other line to breed on. Bringing in another Bojtar daughter, Mrs. Teledgi's Ch.Martonvolgyi Eszes completed our set of Pulik down-line from Patko.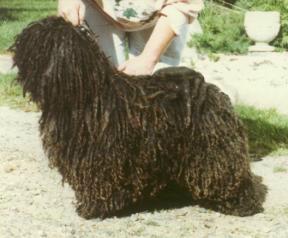 Szeder's Road Show - 'Joe'
Bogi is the Dam of:
Lavender's sire, Joe, sired by Am/Mex/Can Ch. Belrob's Szeder Road Warrior
Multiple BIS Ch. Belrob's Frontrunner's sire, Ch. Szeder's Black Jack, sired by Am/Int/Hung Ch. Veresi Szeder Szultan
and Bill and Linn Hiet's Group winning stud dog, Ch.Szeder's Lokoto Lacko, 'Laci', sired by Am/Can Ch. Csanyteleki Cigany.
She has many outstanding qualities, chief among them her wonderful short back and her excellent shoulder.

Bogi arrived in the United States with her tail up and happy, at eight months of age. Two months later, she traveled to San Francisco, where she won Best In Sweeps at the Puli Club of Northern California Specialty, and fourth in the open class under Judge Les Benis next day at the National. She had to show in the open class because she was a foriegn born dog, even though she was only ten months old. Also, she was in one inch of coat, as she came in a very uneven coat that was scratched out over the shoulders and had to be evened up. Light hearted and playful, she contributed sweetness and great play-ethic to her puppies.