LAVIE
Budapest Champion, Europa Champion
CACIB Multi-BISS
CH Szeder's Show Girl, HT
---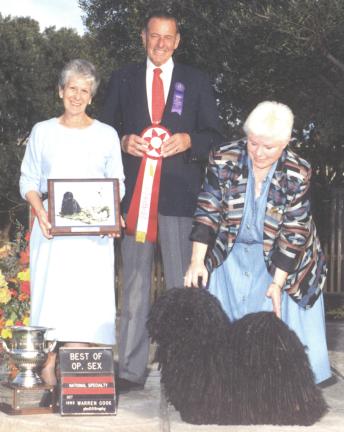 Lavender is the quintessential Puli. Always on duty, she runs our lives and those of all the other Pulik at the house. Her body is also the epitome of the standard. With her short loin, she is able to perform airs above the ground with the greatest of ease. Many Pulik share some degree of this ability. It is always funny when agility people want a Puli to do cavelleti poles to cause them to pay attention to where they place their feet. Cavelletis are used in dressage training for horses to good effect. For Pulik, however, it is a null concept. No Puli cares about where his feet land. They are totally assured about their ability to walk on water or any other surface put beneath them. So, a Puli will run over the cavelletis paying them no attention at all. They know their body will serve them well. Lavender is the greatest athlete I've ever seen. She is, to continue the horse analagy, multiply gaited. She can gait at a different speed in the front and the rear, and has been known to moon walk for a considerable length of time while waiting for dinner.
You are never allowed to get behind Lavie; when relaxed, she positions herself in front of the fireplace, backed up against the hearth so she can view everyone else in the house. If you wish to 'herd' Lavie through a door, now that she's older and needs some direction now and then, you must back her into a corner - and I say back her, because you can't get behind her. She faces you and leaps backward. She never looks, crashes into doors and steps, she still doesn't care where she puts her feet, even though at thirteen she's not as good at handling herself as she used to be. So, she backs across the hallway in backward leap after leap until she reaches the corner. When you come up beside her, you have the opportunity to slide to the inside of the corner and she will switch to leaping backward in the direction you hoped for. As I write, she's asleep on the floor with her head on a toy.
When Lavie earned her HT (Herding Tested), she had gone Best of Opposite Sex at the National Specialty the day before, retiring the challenge trophy. She was in full glorious Puli coat at the time. The Judges of the herding event said they had never seen a dog her age and show trained demonstrate the herding ability that she had.
Lavie was born in the year we built our house. She was litterally raised in a paddock. Two weeks before a supported entry, I threw her in the car and drove her to a neighbor's, where she walked on a leash for the first time and met her first stranger. She went to the supported entry and won Winners Bitch. The following day she won Best of Breed. While diffident temperaments may be helped greatly by socialization, when you have a superb inborn temperament, it just doesn't matter.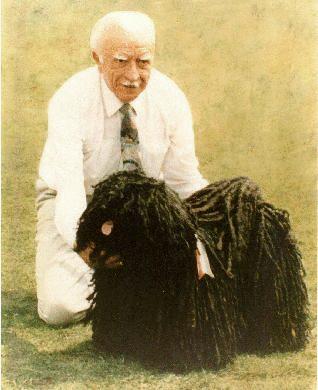 At Lavie's first National Specialty, she won Best in Futurity, Best in Sweeps, and Reserve Winners Bitch. Her greatest win however was in Budapest at the Europa Show. After she had won, Dr. Bordacs made his way over to where she and I were being photographed and videotaped. He held his class of beer out to me, and I thought "he must think I'm about to expire from the heat and excitement -- how thoughtful". But no, he got down with Lavie and had his own picture taken with her. Two years after the Europa Show, the World show was held in Hungary. A new book on the Hungarian herding breeds was published for the occasion, and a full page photo of Lavie and Dr. Bordacs was included in the book. Thanks to Patti Anspach for the photography! Below is a photo of Lavie on the monument in Hero's Square in Budapest, as she visited the high points of the country.
---
Blister
Tucsok
Fruzsi
Lavender
Ciggy
Boglarka
Morzsa
Arnold
Carbon
Hairy
Mac
Clouseau