MORZSA
Ch. Csanyteleki Ancsa
Hungarian Import
---
Morzsa was Ciggy's three-quarter sister. I brought her back from Hungary at the age of five and a half years. When I saw her at Mr. Bako's house, she had to be caught and held so that I could look at her. We met another day to take her to the veterinary hospital for her hip xray, and she was depressed and in denial. Mr. Bako kept her until just before we were ready to leave. On the night that he delivered her to me, he put her in my arms and left. In that instant Morzsa became mine, and mine in the sense that she had lived with me all of her life. It was a most amazing occurrance in a breed where the amazing is commonplace. I set her on the floor after her breeder left and she immediately began dancing around and free-baiting as though she was an experienced show dog. On the way back home, she travelled by plane, train and automobile. In Geneva she went up an elevator to the hotel room, out for a walk in the city, confidently moving over grates in the pavement, and welcomed tons of new experiences. She whined when she saw a small black poodle puppy, no doubt meaning to take her along with us, if only I would do the right thing.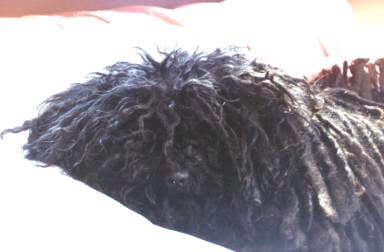 For months after she arrived here, I lived in physical contact with her whenever possible. She and I bonded so closely that I managed to survive the years after Ciggy's death. A Hungarian friend visiting me said that Morzsi was very lucky. Each time he said that I replied, no I was the one who was very lucky. Morzsa's sense of her own identity and place in this universe was among the clearest of all my Pulik.
Morzsa is the dam of Ch. Szeder's Making Headlines CD, HI, HX, AX, OAJ from her litter sired by International/Hungarian/BKHCH/BISS Ch. Tengerdi Hazi Morgo.
The drawing of Morzsa on the top of this page is by Alisonn Zorba, and was one of the Group divider pages in the AKC GAZETTE. Ms. Zorba won a Dogwriters of America award for her work in that issue. Below is a portrait of Morzsa by artist Bobbie Brown