TUCSOK
Ch Mystic Szeder's Tucsok
---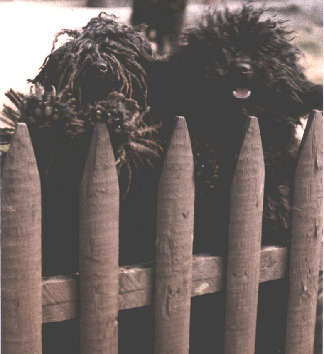 Blister on the left and a young Tucsok on the right welcoming the chance to jump for joy.
One of my good dog-breeding friends has long voiced the opinion that rather than a Parade of Champions at Specialty Shows, we should have a Parade of Top Producers. She points out that many people would be shocked to see the dogs that had produced the big show winners.
Tucs is the mother of nine champions, bred to two different sires. These dogs were compatible in that they corrected Tucsok's faults. And Tucs did have faults. We speak of dog breeding as both a science and an art. Some of those who hold that it is mostly science will do all possible testing, will measure and count and do everything necessary to ensure that a breeding prospect is within the standard, and they will breed this dog to another dog selected in the same way. They may or may not produce a sound dog or a dog within the standard and of acceptable type. However, it is very unlikely to produce exceptional individuals with traits we wish to use to improve other dogs in a breeding program. Generally speaking, average dogs produce average dogs.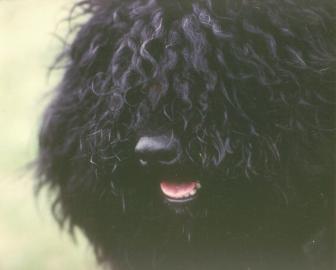 Tucsok had faults, but she also had some very outstanding qualities. These were her inky black pigment, her dense black coat, her exceptional hip conformation, her excellent dentition, and her mental power and drive. The importance of her good qualities was such that she could contribute to a breeding program in a significant way. Her bad qualities were corrected by both stud dogs she was bred to.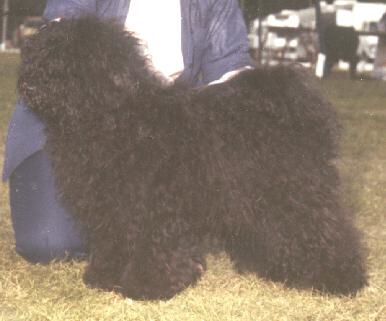 Tucsok's greatest contribution, however, was indirect, and became apparent when Ciggy arrived. We discovered that Tucsok's mother, Ch. Martonvasari Kedvenc, was a litter mate of Ciggy's sire, HCh. Martonvasari Kocsis. Thus, when we performed the very successful breedings of Tucsok's daughter Fruzsi to Ciggy, we were line breeding on these dogs. We have worked further with our Hungarian pedigrees, importing offspring of dogs in Hungary we found to be excellent producers over there, and importing enough variety and sufficient individuals that we could set up another line to line-breed on. While Fruzsi was a much better bitch, a superb producer and outstanding in many ways, much of what made her great came from Tucsok, and thus we consider Tucs to be our foundation bitch.