BLISTER
Ch. Hunnia's Szelid Szeder, CD
---
Blister was our first Champion, owner-handled, our first Group Winner, and a Top Producing sire with fourteen champion offspring. The sweetest of companions, he passed his lovely personality and impecable type to his offspring. He never failed to do what I wished of him, and I am proud to say we consider him our foundation sire, even though his achievements in the ring and the whelping box were eclipsed later on by Ciggy. He sired Fruzsi and as such ensured that his greatest qualities would be passed on in main stream Puli breeding.
Although he was shown before the Puli Club of America adoped the Award of Merit system at their specialty shows, he was one of the last 'cut', the last four or five dogs remaining in Best of Breed competition, at every National he attended. His last appearance in this prestegious group of Pulik was from the Veteran Class.
Blister is the Sire of Group Winner Ch. Szeder's Fuszeres Fruzsi, of Best in Specialty Show Ch. Mt Hood's Gomboc of Tordor, and of Multiple Group Winning Szeder's Kaffogas of Belrob.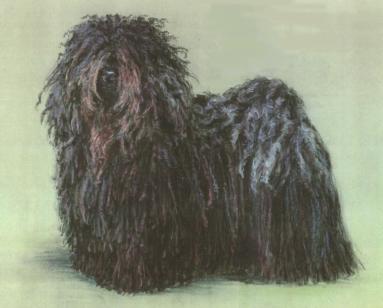 Ch. Hunnia's Szelid Szeder, CD
pastel by Alisonn Zorba
To the present day, the temperaments of our Pulik owe much of their specialness to Blister's input, and we see him in his distant offspring all the time. One of the greatest rewards in breeding dogs is in watching the various bits and pieces of one of our loved ones show up in generation after generation on into the future. Personality is the most important part of a Puli, and we are honored to have housed the wonderful creatures we've had over the years.
---
Blister
Tucsok
Fruzsi
Lavender
Ciggy
Boglarka
Morzsa
Arnold
Carbon
Hairy
Mac
Clouseau