FRUZSI
Ch. Szeder's Fuszeres Fruzsi
---

Ch. Szeder's Fuszeres Fruzsi
How to begin to describe what Fruzsi meant to me. I finished her father's Championship (Blister), but didn't show him myself as a Specials dog. Fruzsi was different. She was my first breeder-owner-handled Champion and Group Winner. When she and I were going to the shows, I was a gross beginner. Every Best of Breed win was special. As I mentioned earlier, even if she didn't place in the group, but just got 'pulled out', I was ecstatic. I never felt that she and I were so good that we were owed anything, in contrast to how I felt with Ciggy. It was hard on my nerves, but oh so exciting when we won.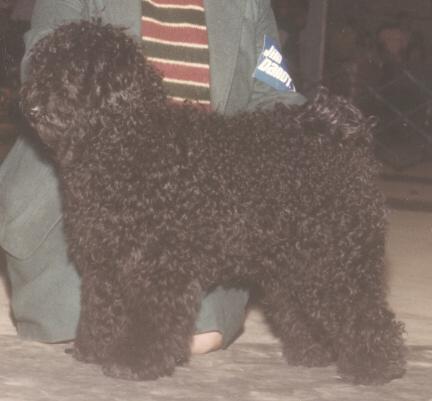 Fruzsi at sx months of age
Fruzsi was a star in the whelping box too. She was bred to two different stud dogs; Ciggy (9 Champions) and Joe - Szeder's Road Show (5 Champions). Her first litter was sired by Ciggy. It produced four Champions and two Group Winners, Ch. Szeder's Sparkling Rose' (owned by Bill and Linn Hiett) and Ch. Szeder's Pouilly Fuisse (owned by Jim Belanger and Michael Connery). Ch. Szeder's Pinot Noir finished with a 5 point major at Westchester, from the President of the Hungarian Kenel Club, Miklos Farkashazy and Best of Winners at the Puli Club of America Supported Entry the day after the National Specialty in 1983.
The next Ciggy - Fruzsi breeding produced three Champions including Group Winning and Award of Merit winning Ch. Szeder's Shooting Star, owned by Pam and Paul Barbro. Also from this litter was American and Australian Champion Szeder's Superstar - 'Amy'. Amy finished as Winners Bitch at the National before going to Australia.
Fruzsi's last litter was sired by Szeder's Road Show - 'Joe'. Joe was a young dog while I was Specialing Ciggy. I found that I couln't effectively show Ciggy at the Breed, Group and Best in Show level and try to do justice to a class dog. Especially a class dog with the heavy coat Joe carried. So, while Joe won the Bred-By Exhibitor class at the National one year, I never finished him. Joe was out of Bogi (Ch. Verecke-uti Boglarka) and sired by Mexican, Canadian and American Champion Belrob's Szeder Road Warrior, 'Max'. Max was shown to his Group Placings and multiple titles by Bill and Linn Hiett. Max was sired by Carbon, out of Ch. Szeder's Pouilly Fuisse - 'Fizzy'. He was a double-Ciggy grandson, and Fruzsi was Joe's grandmother as well as his mate! This is called line-breeding.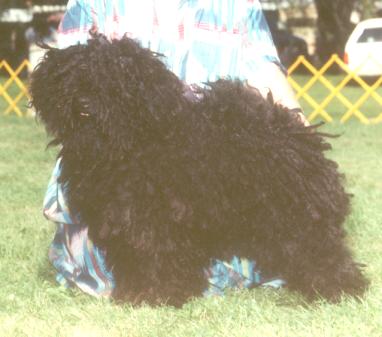 Ch. Szeder's Show Time - 'Opie'
The Joe litter produced Lavie, her adorable sister Opie, and their brother Biz. Lavie went on to fame and fortune. Both Lavie and Opie stayed here and produced puppies. Biz - Am/Hung/Int Ch. Szeder's Show Biz - finished his Championship here, then went on to Istvan and Gabi at their Verecke-uti Kennel in Budapest. We have seen many Biz puppies imported to the United States.
Fruzsi is the Puli we cite when people ask when their puppy will 'grow up'. We point out that Fruzsi was still leaping over an upholstered chair that sat at the corner of the dining room and living room, rather than going around it as she went from one room to the next, at the age of twelve. She was and is our standard for many things, such as attacking the lawn mower and the vacuum cleaner. Her daughters Lavie and Opie, and her granddaughters Zita and Pici have all shown major chunks of personality straight from Fruzsi. It is uncanny how strongly and clearly personality is inherited in Pulik. If scientists want to consider the effects of Nature versus Nurture, they would do well to enlist some Pulik in their studies.